BLOG. 3 min read
Home Office Gaps are Asset Manager Opportunities
Broker-dealer home offices provide an array of valuable information and services to their advisors—including infrastructure, technology, wealth management tools and investment analysis. In fact, nine out of 10 advisors who chose a broker-dealer business model did so for the infrastructure. This need for a system that makes it easy to conduct business eclipsed every other factor by more than 30 percentage points.
But once that infrastructure is in place, other needs move to the forefront—and no broker-dealer provides everything its advisors need to compete effectively these days.
Three in five advisors told us that they needed more support than their home offices were currently providing in practice building, while half needed more help with financial planning for clients. Two in five cited the need for more help with both practice management and managing clients' retirement income needs.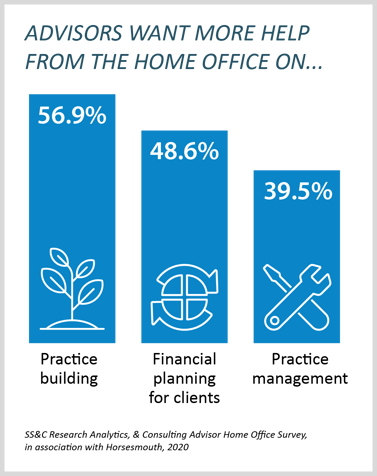 Identifying and partnering with home offices on the right opportunities to close these gaps can help asset managers compete more successfully, enabling them to build awareness, engagement and advocacy among advisors in a more powerful, efficient way than pursuing each of them individually.
You may be wondering where you should start. In our "3 Key Opportunities to Advance Advisor Relationships through the Home Office" report we recommend that asset managers focus on gaps with the likeliest sales impact.
With thousands of products competing in popular investment categories, there's rarely a clear winner based on characteristics and performance alone. Once a product makes it to the advisor's short list of similar options with comparable performance, however, we found there are five home office-related factors that asset managers can target to help "tip the balance" toward choosing their product over the others.
The top factor: one-third of advisors said that they are more likely to choose the product that is on more of their broker-dealer's recommended and preferred lists. Since each list is essentially a stamp of approval, the more lists a product appears on, the more confident the home office appears to be about that product—and the more comfortable some advisors feel about using it with clients.
But business models matter. While being on more recommended lists was the top factor for advisors overall, its importance actually depends on the advisor's business model.
Nearly half of the advisors who are directly employed by their broker-dealer chose this as their top factor—making it the most important factor to these advisors by a significant margin. But just a quarter of advisors with an independent broker-dealer model chose it.
The nature of the advisor's tie to the home office clearly impacts how influential the recommended lists are to their decision-making. Advisors who are employed by the broker-dealer identify more strongly with the broker/dealer, so recommended lists from the home office are more influential. On the other hand, home office recommendations are influential, but less so, for the advisors who are broker-dealer affiliates and perceived as more independent.
The other factors revealed notable differences between advisors with different business models as well. Bottom line—the business model is more important than the channel for understanding advisors' needs and preferences, especially when you are talking about the influence of the home office.
Of course, these five tipping point factors, and the recommendations drawn from them that we focus on in the report, are for asset managers more broadly. Asset managers who try to go broad instead of deep will struggle to see rewards that justify their efforts. Instead, firms should identify the opportunities that best represent the intersection of your most important partners' needs and your firm's commitment and capabilities.
Sr. Business Research Analyst, Research, Analytics and Consulting