BLOG. 2 min read
SS&C Sees Record-Breaking Use of Guaranteed Income Solutions
Guaranteed retirement income products are receiving much-needed—and long-overdue—interest. While such products have been around in various forms for more than a decade, their adoption in retirement accounts has been slow to take hold. In large part, this was due to the lack of portability and the challenges of servicing and supporting such products. But, based on 2022 data from SS&C's Retirement Income Clearing and Calculation (RICC) platform, guaranteed income products are well on their way to mainstream adoption.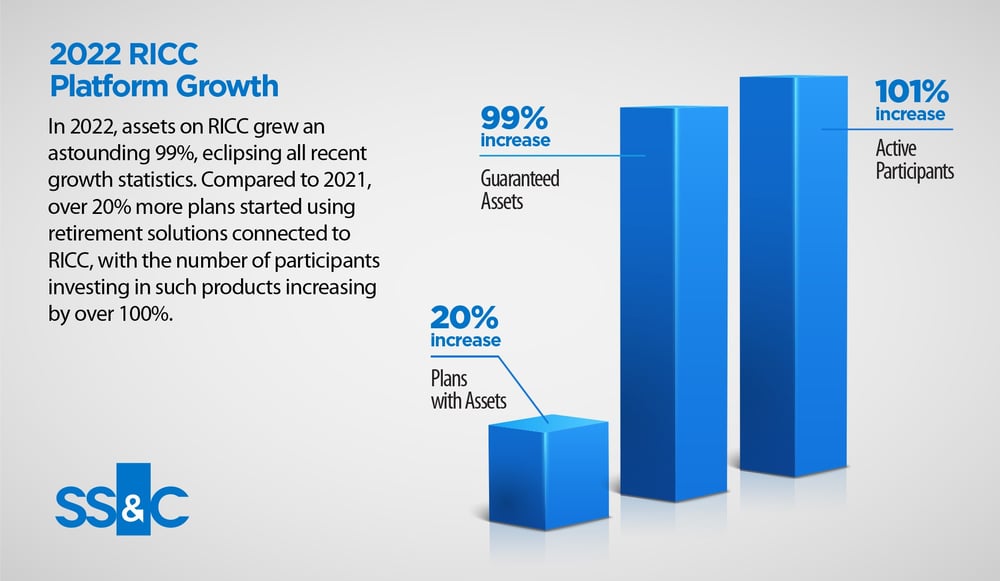 In 2022, assets on RICC grew an astounding 99%, eclipsing all recent growth statistics. Compared to 2021, over 20% more plans started using retirement solutions connected to RICC, with the number of participants investing in such products increasing by more than 100%. And with SECURE 1.0 now enacted (which simplifies and removes some of the perceived risks of using guaranteed income products), those high figures might well prove to be the norm in the years ahead.
Indeed, if 2022 RICC organic growth statistics are an indication of what is to come, then the steady stream of growth is poised to become a tsunami. SS&C expects that assets on RICC will at least double again by the end of 2023. SS&C is excited to add new recordkeepers and product providers to the RICC platform and to broaden access to retirement income solutions for both our clients and partners.
The Universal Retirement Income Product and Provider Solution
RICC has been the industry-leading retirement income middleware platform since its launch in 2008. RICC was developed to help address the need for an efficient, scalable and cost-effective way for recordkeepers to gain access to multiple retirement income solutions through a single connection.
Some recordkeepers cannot currently service annuity-based solutions on their platforms. Others may support proprietary products that are only available within their own recordkeeping system. Add to the list of challenges the ability to obtain—and maintain—data connectivity between several players and then track and account for a variety of underlying guarantees (with different underlying structures). All of these needs require a significant technology investment that is not efficient or scalable for an individual recordkeeper to build on their own. SS&C Retirement Income Solutions allow recordkeepers and product providers to connect once to a network of retirement income solutions.
Through a single connection, RICC also allows income solution providers to gain distribution opportunities on multiple recordkeeping platforms. If plan participants change plan providers or switch plans, RICC facilitates the portability of guaranteed income assets. Advanced technology delivers the necessary backend infrastructure to integrate guaranteed products into participant web portals and financial modeling engines.
Participant access to retirement income solutions is essential to ensuring that Americans can enjoy a secure and dignified retirement. RICC's asset growth is proof not only that guaranteed income products are here to stay but that SS&C and RICC play a critical role in enabling availability to plans and participants.
Read our "Retirement Plans: Guaranteed Income Means Better Outcomes" whitepaper to learn more about Retirement Income Solutions and the shift to decumulation.
Head of Product Development, Advisor, Rollover and Retirement Intelligence Solutions